Artisan Turrón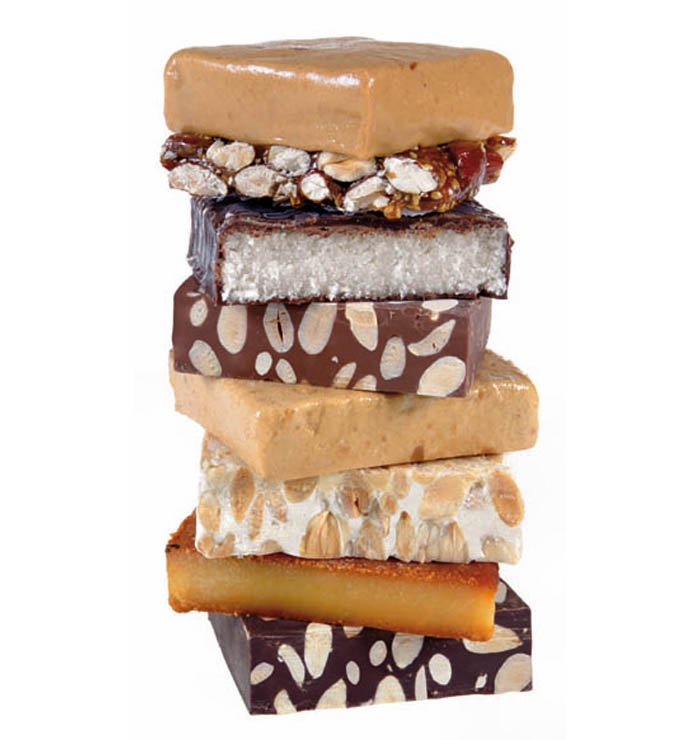 Turrón in Spain is an essential element to the Christmas festivities - In most shops you can only find it around Christmas time, Based originally around Almonds & Honey, there are now a multitude of different types.
Turrón varies immensely in both quality and price and we wanted to ensure that we chose only the very best. Our Turrones come from Pablo Garrigós Ibáñez based in Jijona near Alicante. Their products are such a premium quality that they have been selected by Spain's Paradors (their chain of luxury hotels), the premier top class retailer "El Corte Ingles" as well as being found in Spain's exclusive gourmet delicatessens.
Their turrones and other confectionery are all totally 100% handmade using only the highest quality ingredients. They carefully choose the ingredients for their turrón from regions renowned for producing the finest quality natural products.
Dark Chocolate Turron with Almonds 300g£10.99

Dark Chocolate with whole Marcona Almonds


Premium Almond Brittle Turrón Torta with Sesame Seeds 200g£10.99

Clear brittle variety
Only finest Marcona Almonds


Premium Dark Chocolate Torta Turrón with Almonds 200g£10.99

Only finest Dark Chocolate with Marcona Almonds
"Torta" disc format


Premium Torta Turrón de Alicante (Hard) 200g£10.99

Hard Nougat variety
Only finest Marcona Almonds
"Torta" disc format


Sugar Free Turrón de Alicante (Hard) 200g£10.99

Sugar Free Version of traditional Turron
Only finest Marcona Almonds
With Inulin

Sugar Free Turrón de Jijona (Soft) 200g£10.99

Sugar Free Version of traditional Turron
With Inulin

Torta Turrón de Jijona (Soft) 200g£14.00

Soft Nougat variety
Almonds, Honey & Eggwhites
200g Torta Format

Turrón Selection Box 170g£12.50

Finest Turrón varieties from Spain's top manufacturer
5 different Turrones
10 individual portions