Paella Pan Servings & Dimensions
Polished Steel & Enamelled Steel Paella Pan Serving & Dimension Information
Paella Pans are tradionally described by the size of their top diameter. The base is somewhat smaller due to the sloping sides of a traditional paella pan. When cooking paella it is important to choose the right size pan to keep the paella thin. The most common mistake in cooking paella is to overfill the pan.
We have included some information for choosing the size of paella pan:
Main vs Tapas Portions


Each pan is marked by the manufacturer for the number of "Raciones" it will serve. This is best described as a "tapas" size portion. It is slightly strange as in Spain you would never see a paella pan being used to serve these numbers of portions. For example a 50cm pan is described as serving 14 portions, but in practice it will be used for about 7 people (perhaps even less). However the sizing is used by all the pan manufacturers in Spain, so it isn't going to change. Therefor we have added a column for Main course size servings, that give a better impression of the pan capacity.
Minimum amounts for each size pan


It is always better to use have less in the pan than the maximum number of main course portions. A thin paella (up to a depth of about 1cm) will cook and taste better than an overfilled pan. As a general rule of thumb, if you take half (or a little more) the value of tapas portions, that would be approximately the minimum amount of main course portions the pan can be used for. eg for a 50cm Pan max main course portions is about 8, min would be 14/2 so 7 or or 6
Cooking on a gas hob


It is important to try and get an even cooking heat as possible. This becomes very neccessary in the later stages of cooking paella when the rice is cooking. The flame does not need to cover the whole base of the pan, but conversely you dont want a small concentrated heat in the centre. In practice a gas hob can cook up to about a 36cm (maybe a 38cm) pan depending on the size of the gas burners. It is possible to use larger pans on agas hob if they can span multiple gas burners. However this will mean moving the pan (not stirring the paella !) around while the rice is cooking.





Remember normal paella pans are for gas or open fire only. If you are cooking on electric or AGA's then you will need one of our flat-bottomed paella pans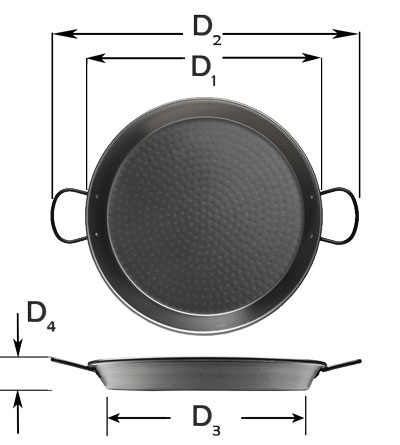 Pan Size
Tapas Servings
Main Course Servings

Top Diameter ex Handles (cm)
D1

Top Diameter inc handles (cm)


D

2
Base diameter (cm)


D

3
Max depth


D

4
10cm
-
-
10cm
15cm
8cm
2cm
12cm
-
-
12cm
16.5cm
8.5cm
2cm
15cm
Tapas
-
15cm
23cm
11cm
2.5cm
20cm
1
small
20cm
27cm
14.8cm
3cm
22cm
1
small
22cm
32.5cm
18cm
3.5cm
24cm
1-2
1
24cm
34.5cm
20cm
3.5cm
26cm
2
1+
26cm
36.5cm
22cm
3.5cm
28cm
3
2
28cm
38.5cm
23cm
3.5cm
30cm
4
2-3
30cm
40.5cm
25cm
3.5cm
32cm
5
3
32cm
43cm
27cm
4cm
34cm
6
3-4
34cm
44.5cm
29cm
4cm
36cm
7
4
36cm
46.5cm
31cm
4cm
38cm
8
5
38cm
51cm
33cm
4.5cm
40cm
9
5-6
40cm
52cm
34cm
4.5cm
42cm
10
6-7
42cm
54.5cm
36cm
4.5cm
46cm
12
7-8
46cm
59cm
40cm
5cm
50cm
14
8-10
50cm
64cm
44cm
5cm
55cm
16
10-12
55cm
69.5cm
48cm
5cm
60cm
19
15-16
60cm
74cm
52cm
5cm
65cm
25
19-22
65cm
83cm
56cm
6cm
70cm
30
20-25
70cm
61cm
6cm
80cm
40
30-35
80cm
70cm
90cm
50
40-45
90cm
80cm
100cm
85
70-75
100cm
90cm
115cm
120
100-110
115cm
100cm
130cm
200
170-180
130cm
116cm