Electric Hob, Induction & AGA Paella Pans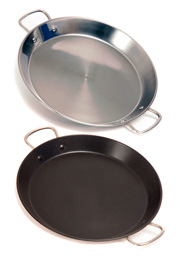 Garcima produce a range of top quality stainless steel paella pans under their "Guison" brand. These pans are specifically designed for use on electric hobs & AGA hotplates. The base of a traditional paella pan is slightly curved making them unsuitable for use on electric hobs or Aga's. Their range of "Guison" Sandwich base paella pans have a machined base allowing the pan to sit flat on a hob.
The base of these pans is a "sandwich" of stainless and magnetic steel (hence the name !) making them suitable for induction hobs as well. They can also be be used on gas cookers
They are available in either stainless steel or with the additon of a non-stick coating.
Each pan is measured from the top edge (excluding handles). To help you select the correct size pan we have included keys with dimensions and the approximate number of servings for each individual pan - these can be found by clicking on the information for each pan.

28cm Non-Stick Stainless Steel Paella Pan for Ceramic, Induction & AGA hobs£37.99

Ibili Bistrot range of Induction base Non-Stick Paella Pans
Top grade 18/10 Stainless Steel with 3 layer Non-stick Coating
Thick encapsulated conductive base


Tapas Portions: 4

Main Course: 2-3

32cm Non-Stick Stainless Steel Paella Pan for Ceramic, Induction & AGA hobs£45.99

Ibili Bistrot range of Induction base Non-Stick Paella Pans
Top grade 18/10 Stainless Steel with 3 layer Non-stick Coating
Thick encapsulated conductive base


Tapas Portions: 5

Main Course: 3-4

32cm Stainless Steel Paella Pan for Ceramic, Induction hobs & AGA's£36.99

Ibili Premier range of Induction base Paella Pans
Top grade 18/10 Stainless Steel
Thick encapsulated conductive base

Tapas Portions: 5
Main Course: 3-4

34cm Non-Stick Stainless Steel Paella Pan for Ceramic, Induction & AGA hobs£47.99

Ibili Bistrot range of Induction base Non-Stick Paella Pans
Top grade 18/10 Stainless Steel with 3 layer Non-stick Coating
Thick encapsulated conductive base


Tapas Portions: 6

Main Course: 4

34cm Stainless Steel Paella Pan for Ceramic, Induction hobs & AGA's£39.99

Ibili Premier range of Induction base Paella Pans
Top grade 18/10 Stainless Steel
Thick encapsulated conductive base


Tapas Portions: 6

Main Course: 4

36cm Non-Stick Stainless Steel Paella Pan for Ceramic, Induction & AGA hobs£51.99

Ibili Bistrot range of Induction base Non-Stick Paella Pans
Top grade 18/10 Stainless Steel with 3 layer Non-stick Coating
Thick encapsulated conductive base


Tapas Portions: 7

Main Course: 4-6

36cm Stainless Steel Paella Pan for Ceramic, Induction & AGA hobs£51.99 £42.99 (3)

Tapas Portions: 7
Main Course: 4-5

36cm Stainless Steel Paella Pan for Ceramic, Induction hobs & AGA's£43.99

Ibili Premier range of Induction base Paella Pans
Top grade 18/10 Stainless Steel
Thick encapsulated conductive base


Tapas Portions: 7

Main Course: 4-5

40cm Non-Stick Stainless Steel Paella Pan for Ceramic, Induction & AGA hobs£68.99 (1)

Ibili Bistrot range of Induction base Non-Stick Paella Pans
Top grade 18/10 Stainless Steel with 3 layer Non-stick Coating
Thick encapsulated conductive base


Tapas Portions: 9

Main Course: 6-7

40cm Stainless Steel Paella Pan for Ceramic, Induction & AGA hobs£55.99

Ibili Premier range of Induction base Paella Pans
Top grade 18/10 Stainless Steel
Thick encapsulated conductive base


Tapas Portions: 9

Main Course: 6-7

45cm Non-Stick Stainless Steel Paella Pan for Ceramic, Induction & AGA hobs£89.99 (1)

Ibili Bistrot range of Induction base Non-Stick Paella Pans
Top grade 18/10 Stainless Steel with 3 layer Non-stick Coating
Thick encapsulated conductive base


Tapas Portions: 12

Main Course: 8

45cm Stainless Steel Paella Pan for Ceramic, Induction & AGA hobs£75.99

Ibili Premier range of Induction base Paella Pans
Top grade 18/10 Stainless Steel
Thick encapsulated conductive base


Tapas Portions: 12

Main Course: 8

32cm Non-Stick Stainless Steel Paella Pan for Ceramic, Induction & AGA hobs£42.99 (4)

Tapas Portions: 5
Main Course: 3-4